GET MORE QUALIFIED CANDIDATES
APPLYING FOR YOUR JOB
NOW
Qualified means they will provide a 4:1 ROI and reduce your managerial stress
DEAR BUSINESS OWNERS,
If you are interested in obtaining more quality candidates for your vacant job positions
This may be the most important message. Here's why…
Most business owners work extremely hard trying to obtain business, ensure the client is satisfied, find good employees, make sure cashflow is constant and the enterprise is profitable. It is a constant balancing act and you're left increasing tired and stressed, wondering how to achieve the dream business model you're chasing.
But imagine if it wasn't that hard to obtain qualified candidates who were competent and culturally suitable to assist you build your business over the coming years. Not just 5 or 10 or 20 new candidates but enough candidates to select from, to confidently FILL the vacant position with the right person. …Whilst wasting less time and money on failed attempts than you are now.
Your stress levels will be reduced, and you will have more time to work on the business than in the business. You will feel more relaxed and able to make better decisions. You will feel more confident about your cash flow and the ability to grow your business…..And your business will finally provide life style you have been working towards!
So let's reflect ….Are you SICK of advertising and chasing every conceivable lead only to find the interested applicants are not up to scratch or a gamble to hire at best? Are you DONE with paying for advertising, 'experts' and 'systems' that cost you more than you obtain from the employee you hire?
Then quit wasting time, money and stress GUESSING how to find candidates to help you grow your business and put our tried and tested, battle hardened, repeatedly successful methods and strategies to use. We've successfully outperformed the competition and found qualified candidates for clients in Australia and Canada. Including a range of business models in three key industry sectors such as:
Manufacturing
Engineering
Mining services
Many must PAUSE recruitment after just three months because they've found their PRODUCTIVE Team!
See, our core philosophy is that if we can't find you enough qualified candidates who will make you money – We don't deserve yours.
So, we do what no other business growth specialists would dare… We're SO confident in our ability that
you Pay Per Performance – That means ZERO RECRUITMENT COMPLETION FEE(yes, you don't have to pay a fixed recruitment campaign completion fee)… You pay us directly based on the candidates who we find for you! A true Win-Win.
BUSINESS DEVELOPMENT MANAGERS
(Click Each Person Below To View Video)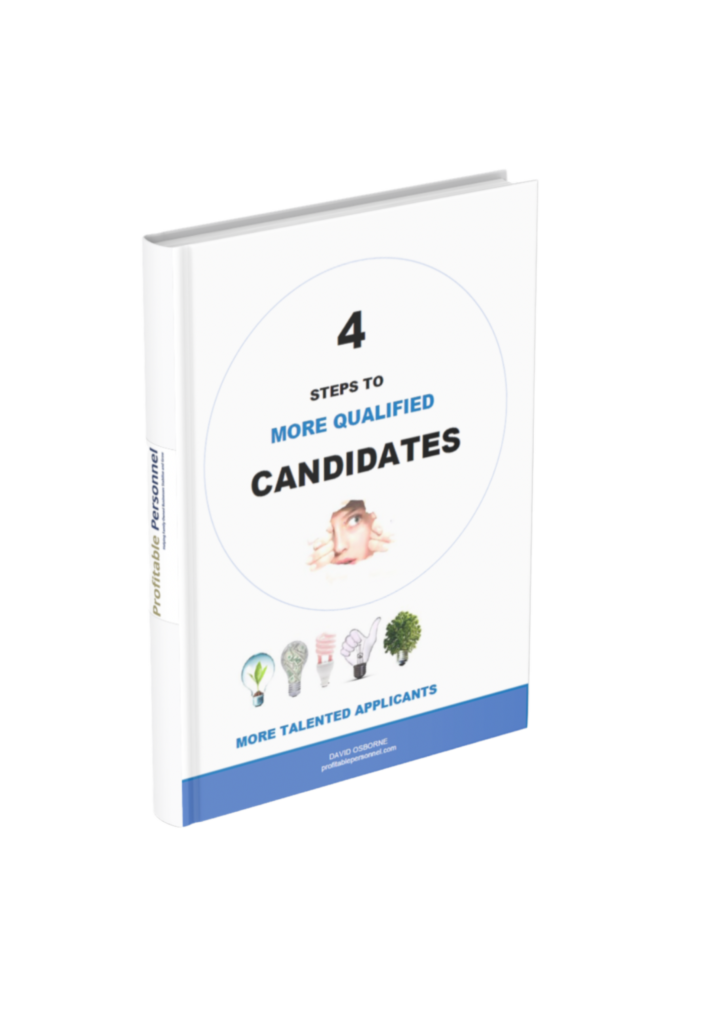 4 STEPS TO MORE
QUALIFIED CANDIDATES
We have attracted hundreds of candidates using this 4-step process, to building highly targeted and extremely efficient campaigns. If you want to utilise this strategy before your competitors do, download this now.
HOW TO


STAND OUT FROM COMPETITORS
As a passionate business owner, you care about your clients, service, and results. So naturally when you try marketing your vacancies, you promote your company and all the value it brings.
The only issue is, so does all 26 of your competitors in the area. Years ago, this common style of recruitment advertising used to work very well. But now your target market has seen the same job advertisements again and again for years from all your competitors… So, it doesn't work anymore.
The industry is saturated.
…But it's not competitive.
Some typical attempts to attract quality candidates are as follows:
• Place Advertisements on SEEK • Place Advertisements on LinkedIn • Place Advertisements on Indeed
• Ask staff to recommend potential candidates • Ask Business Associates to recommend potential candidates
• Attend Networking events in the hope of meeting potential candidates
Do any of these actions sound familiar? That's the problem. The same things have been run for years so now your ideal candidate has gone completely blind to it.
Ok, so how DO we do it?
Simple. After researching what candidates in your industry are looking for, we unpack what your competitors will not unpack, and we make transparent what your competitors will not make transparent. We create an offer that stand outs to your preferred applicant.
We then put the offer directly in front of them and ensure they have taken noticed of it.
It all comes down to the fundamentals of human psychology. People are selfish, we want everything to be tailored to us. SO, we choose communication that is tailored to the candidate, and ensure ALL advertising (at least the advertising they see) speaks directly to THEM. This means no more focusing purely on what YOU ARE looking for. It just doesn't work.
Imagine a Great Employee, a role sent to them, that speaks to them about their aspirations, their desires and makes them UNDERSTAND that this is exactly what they are looking for. A lot different to crafting advertisements and driving whoever you can to advertisement, hoping someone good takes the bait.
With the right Profiling, Video Creation, Advertising, and Targeting communications, we can attract more qualified candidates to your vacant role, and provide quality insights based on our 15 years of research and tailored assessments to your Company Values and The Results you need achieved in this position.
If you'd like to discover how this solution can be tailored to you, schedule a strategy session below.